Questions about tutoring? We have your answers
Frequently Asked Questions about Beyond the Classroom Tutoring
What age can we start tutoring?
Our teachers tutor children as young as pre-school!

Can I book both of my children in the same session with the tutor?
Since we have been working with families for over 20 years, we know that each child has their own unique set of learning needs. We want to optimize the time tutors and students spend together so focusing on their individual challenges through 1:1 tutoring is the best way to tutor.
Is there a minimum number of tutoring sessions I need to commit to?
No, you can use the tutoring for as long as you need.

There are no contracts to sign and no advanced payment, will invoice you AFTER the tutoring sessions on the 1st and 15th of each month.
What are the qualifications of your tutors?
Our tutors are professionals who have a passion for teaching. All of our tutors are personally chosen by the local owners of Beyond the Classroom and evaluated through our rigorous screening process. Most tutors are Ontario Certified Teachers and all of our tutors have their criminal record checks completed including their vulnerable sector checks.


Will I have the same tutor each time?
Yes, we do our best to match the tutor and student for a lasting connection. We know that the relationship between the tutor and student is crucial for learning so we make a great match from the start.
What payment options do you have?
We accept Visa, MasterCard and e-transfer.
Can I reach out to the owner in my area with questions?
Yes! We are here to support your family on getting the most out of the tutoring with Beyond the Classroom.
How long has Beyond the Classroom been in business?
We opened our doors in 1998 and have been tutoring students ever since! Our expert tutors are here to provide high quality tutoring both online & in-person.
Is online tutoring as effective as in-home?
Since 2019 we have been offering online tutoring (in addition to in-home) and have found that many students find it a great way to connect with their tutor and get their sessions in. Many of our students are involved with competitive activities where they travel, online tutoring is the perfect solution.
It's also a great way to keep learning over the summer.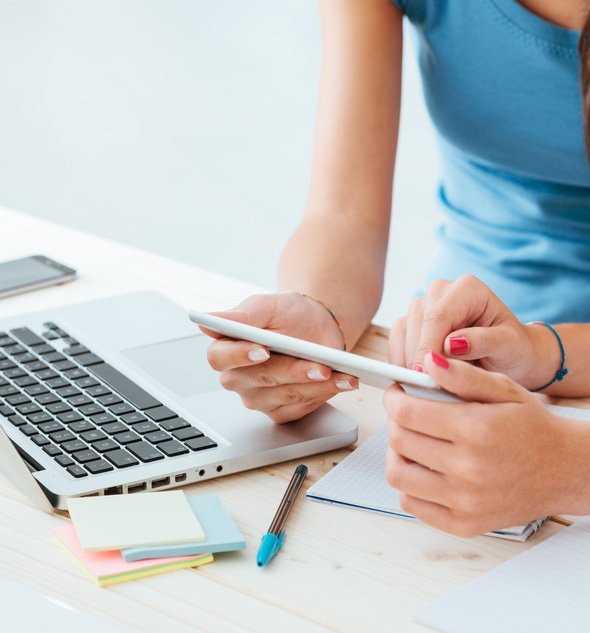 What are the policies I should be aware of?

At Beyond the Classroom, we strive to offer a customized learning experience that exceeds you and your child's expectations. As part of this, it is understandable that everyone's time is valuable, and we have policies to ensure a common understanding of our continued relationship supporting your child's education.

Beyond the Classroom Policies

By this Agreement, Beyond the Classroom and the undersigned ("the Client") agree that Beyond the Classroom will provide tutoring services to the Client on the following terms:

1. Beyond the Classroom will assign a tutor to the Client based upon Beyond the Classroom's assessment of the Client's individual educational needs. The assigned tutor will provide customized instruction and homework support to the Client.

2. For Online Tutoring: The assigned tutor will meet the Client for instructional purposes in the online meeting space. The tutor or Beyond the Classroom owner will provide the URL to you where you will "meet" online for each tutoring session. Both tutors and students are able to upload information in the online space and refer to work done in the tutoring sessions in between scheduled sessions.

For In-Home Tutoring: The assigned tutor will meet the Client for instructional purposes in the Client's home or such other location as may be agreed upon by the Client and Tutor or Beyond the Classroom Administration. The Client will provide a location in their home or elsewhere as agreed that is appropriate for and conducive to individual instruction by the tutor. Tutors shall not be required to provide services at a tutoring location which the tutor feels is unsafe for either the tutor or the Client.

3. The Client will pay Beyond the Classroom upon the receipt of the tutoring invoice sent by email on the 1st and 15th of each month. Acceptable forms of payment are cheque, email money transfer, or credit card. In the event of a cheque being returned NSF, the Client will pay a service charge of $15.00 per returned cheque. In the event of repeated NSF cheques, Beyond the Classroom reserves the right to require all payments to be in the form of pre-authorized credit card. *Payment procedures differ per location, please check with the owner regarding the specifics. All payments are processed through secure means to keep your information safe.

4. The Client will ensure that a responsible adult is present at all times during tutoring sessions. Tutors cannot accept responsibility for child-minding or supervision of children in the absence of a responsible adult. Tutors do not provide any services other than educational instruction.

5. Beyond the Classroom, and its individual tutors, expect students being tutored to behave appropriately during tutoring sessions. Student cell phones should be turned off. Tutors will not enforce discipline. The Client is responsible at all times to ensure that individuals being tutored refrain from unruly or obstreperous behavior and shall take such actions as may be necessary to ensure a proper learning environment exists during tutoring sessions.

6. Clients will be provided with notes on their bi-weekly invoice, completed by the tutor. In the event that the Client is not satisfied with their tutoring sessions, the Client will report their concerns to the Beyond the Classroom owner, who will then work with the Client and the tutor to identify and resolve any problems which may exist in the provision of tutoring services to the Client. If the Client's complaints cannot be resolved with the existing tutor, Beyond the Classroom, in its discretion, will assign another tutor to the Client.

7. Tutors shall be available for reasonable phone or email consultations with the student's classroom teacher. The parent will pay Beyond the Classroom for the time spent in the meeting. There is no charge for occasional emails or phone conversations between the tutor and the classroom teacher.

8. In the event a tutor is unable to be present at a scheduled tutoring session, the tutor shall provide as much notice as possible to the Client and the session will be rescheduled (if possible).

9. In the event the Client wishes to reschedule or cancel a tutoring session, the Client shall give the tutor at least 48 hours' notice. In the event that the Client does not provide at least 24 hours notice of the need to cancel or reschedule a session, the Client will pay the tutor a cancellation fee of 1/2 hour of the one-hour tutoring rate. If the Client cancels the session with less than 3 hours notice and/or the tutor is waiting in the online space, the Client shall pay Beyond the Classroom for one hour of tutoring time.

10. The Client recognizes that the tutor is on contract with Beyond the Classroom. Clients must contact Beyond the Classroom Administration when rebooking their tutor. Any students that are referred to the Beyond the Classroom tutor by the Client must work through Beyond the Classroom and referred clients must sign the Beyond the Classroom Family Information form and must follow all polices set forth by Beyond the Classroom.

11. CONSENT TO WORK ONLINE WITH BEYOND THE CLASSROOM TUTORS You acknowledge that:
• Online tutoring is not ideal for students 13 and younger. If your child is under 13, a parent is required to be in the room with the student during the duration of the online tutoring sessions.
• All online tutoring sessions should be supervised by a responsible adult, regardless of the age of the student.
• The platform does not work as well with cell phones and tablets. Ideally a computer with camera and a microphone is ideal.
• Beyond the Classroom uses a third party, The Lesson Space, to conduct the online tutoring sessions, and cannot guarantee the reliability of the platform.
• There are factors beyond our control that could influence the success of the online tutoring sessions; internet stability, platform (The Lesson Space) stability and the engagement between the tutor and student. Along with availability of applicable materials.
• The sessions are recorded for students and tutors to refer to. This excludes audio & video recording of the sessions. The recording only includes the use of whiteboards, document sharing and screen sharing.
• You expressly agree that the use of the Lesson Space platform is entirely at your own risk. Lessonspace does not warrant that the site's functions will be uninterrupted or error-free, or that the site or its server is free from viruses or other harmful components. You agree to access and use the Lesson Space entirely at your own risk. You agree to take all necessary precautions when interacting with other Users.

12. This agreement shall be governed at all times by the laws of the Province of Ontario.

13. You are receiving tutoring services through a franchise location of Beyond the Classroom. Beyond the Classroom Systems Inc. is not responsible for claims and actions of the franchise location you are working with.

Updated: August 21, 2020